Best Love Shayari in Hindi and English Font: If you want to get the best love shayari and share it with your friends then We are providing Latest Collection of Shayari for Love like best Love Shayari, Latest Love Shayari, Hindi Love Shayari, Two Line Love Shayari, Love Sms and Love Status. I hope you liked this Hindi Love Shayari collection. Shayari is a type of Stave, that enables a man to express his profound emotions from base of the heart through words. You will get all the Latest and updated collection of Best Love Shayari in Hindi Attitude shayari in Hindi. Also Check our updated Sad Shayari and Yaad Shayari.
Love Shayari, Teri Mohabbat Ke Liye
Nazre Karam Mujh Par Itna Na Kar,
Ki Teri Mohabbat Ke Liye Baagi Ho Jaaun,
Mujhe Itna Na Pila Ishq-E-Jaam Ki,
Main Ishq Ke Jahar Ka Aadi Ho Jaaun.
नज़रे करम मुझ पर इतना न कर,
की तेरी मोहब्बत के लिए बागी हो जाऊं,
मुझे इतना न पिला इश्क़-ए-जाम की,
मैं इश्क़ के जहर का आदि हो जाऊं।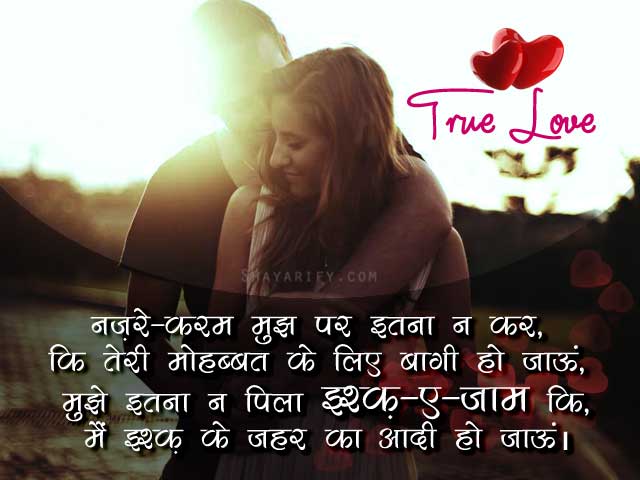 Usne Mohabbat, Mohabbat Se Jyada Ki Thi,
Humne Mohabbat Usse Bhi Jyada Ki Thi,
Ab Wo Kise Kahenge Mohabbat Ki Intehaan,
Humne Shuruat Hi #Intehaan Se Jyada Ki Thi.
उसने मोहब्बत, मोहब्बत से ज्यादा की थी,
हम ने मोहब्बत उससे भी ज्यादा की थी,
अब वो किसे कहेंगे मोहब्बत की इन्तेहाँ,
हमने शुरुआत ही #इन्तेहाँ से ज्यादा की थी।
Use Kah Do Wo Mera Hai Kisi Aur Ka Ho Nahin Sakta,
Bahut Nayab Hai Mere Liye Wo Koi Aur Us Jaisa Ho Nahin Sakta,
Tumhare Saath Jo Guzare Wo Mausam Yaad Aate Hain,
Tumhare Baad Koi Mausam Suhana Ho Nahin Sakta.
उसे कह दो वो मेरा है किसी और का हो नहीं सकता,
बहुत नायाब है मेरे लिए वो कोई और उस जैसा हो नहीं सकता,
तुम्हारे साथ जो गुज़ारे वो मौसम याद आते हैं,
तुम्हारे बाद कोई मौसम सुहाना हो नहीं सकता।